Winter Road Trips
The weather's warming up outside and it's time to hit the road! Take a spin outside and visit these fun Winnipeg Winter spots. Here is a list of places our employee's like to visit!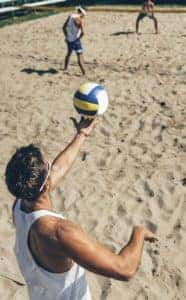 The Beach Volleyball Centre is an indoor beach filled with sand and features a licensed bar! Only a 15-minute drive from Winnipeg, this indoor activity centers offer year-round beach volleyball leagues and archery tag.
Take your family tobogganing down the iconic Garbage Hill. Don't forget to take a selfie with the highly-popular Garbage Hill Sign!
Escape R
ooms
Escape Rooms have immerged onto the scene recently. You and your friends can become detectives and piece together clues to escape your themed room!
The sky's the limit when you and your family go out! Jump at the chance to reach new heights with your family and friends.
The Forks have been a gathering place for centuries. Located where the Assiniboine and Red River meet, there is always something happening at the Forks. You can find something for everyone here, whether it's skating on the Red River Mutual Trail or taste the world with their unique food court.

Take your family on an outdoor adventure inside the city! This learning
centre
teaches families of all ages about the importance of taking care of our wildlife and ways to connect with the outdoors.
Take a road trip in your new car to one of Manitoba's most popular national parks or a weekend of snowshoeing and skiing.
Riding National Park is a
two and a half hour
drive from Winnipeg
.
Race Car Driving
Can't get enough of driving? Visit one of Winnipeg's many indoor racing tracks and challenge your friends to a race! It's a surefire way to determine who's the best driver in the group.