Distracted driving has been a topical issue for many years and the consequences for it have increased over time. In addition to a $672 fine in Manitoba, drivers caught using a mobile device while driving face a three-day driving suspension, and five demerit points.
In other words, just don't do it. This is easier said than done though. Both vehicle and phone manufacturers have been hard at work though, trying to slow down the rampant use of mobile devices while driving.
Most mobile devices now come equipped with a "do not disturb while driving" feature. When turned on, your phone will detect that you are driving through speed and motion-sensing technology. The phone will then block all notifications and calls while you are driving and send a text message that informs the person trying to reach you that you are driving.
Automotive manufactures have also done their part to help the cause.
Most in-built infotainment systems come installed with Android Auto and Apple Car Play. These functions allow you to keep your eyes on the road by integrating those aspects that would typically require you to be on your phone to the display monitor.
You can:
• Change music, without your hands leaving the steering wheel
• Use Bluetooth, if you need to take an emergency call
• View and input GPS directions on you monitor
Honda, for example, came out with Bluetooth HandsFreeLink. This enables frequent drivers who may need to have phone access to address their calls without having to remove your hands from the wheel.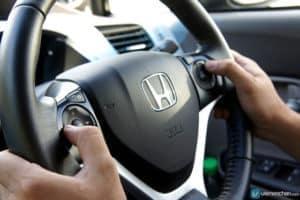 With HandsFreeLink you can:
• See the call details
• Uses your voice commands to dial phone numbers
• Direct-dial locations that are stored in your navigation
With these two features, you are empowered to break the habit. Turn on your "do not disturb while driving" and connect to android auto/Apple CarPlay. This way, you are not tempted with the enticing notification noises and can manage your driving conditions on the vehicle itself.
The key thing to remember is that these features are here to assist. But, the ultimate goal is to have drivers on the road with the discipline to say no to distracted driving.
Dilawri's Crown Auto Group – Crown Acura, Winnipeg Honda, Crown Nissan, and Crown Toyota, in the Waverley Auto Mall. Crown Mazda at 36-90 Portage Avenue, and Crown Honda at 26-10 McPhillips. Online at www.CrownAutoGroup.ca For 2020, named one of Canada's Best Managed Companies – Platinum Level – by Deloitte and one of Canada's Best Employers – Platinum Level – by Aon. Crown Auto Group – Making Car Ownership Easy.